"Mobile homes do not commit land. They solve today's problems today and can be re-deployed when need passes leaving only bare land for future use"
These groups include
Communities losing essential workers
Young people in overcrowded flats
Parents of debt-ridden former students
Hidden Homeless in cars, tents, garages
Elders needing additional supervision
First-time buyers can't afford a building
Homesteaders self-building on their land
Millennial nomads trying a tiny lifestyle
Collective millennials creating pod villages
Tangata whenua rebuilding their kāinga
Urban Māori wanting an urban kāinga
MSE Local beneficiary housing
WINZ: Beneficiary housing on aroha land
Homeless: NGO, church, iwi sponsored
Ex-prisoner halfway house in popup village
Natural disaster emergency housing
Natural disaster worker housing
Home Offices for working at home
Pop-up shops and services
Outdoor experience tourism operators
Airbnb & online rental accommodation
Seasonal-business worker housing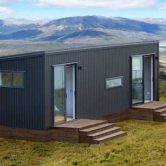 Instant housing as needed
The homes that do not commit the land
In property law, there is a Latin phrase: Quicquid plantatur solo, solo credit (whatever is attached to the soil becomes part of it) that defines a building. By definition all buildings are fixed to land, not only becoming part of the land in fact, but in law. This is why the Building Act requires they are certified by a producer or licensed architect/engineer to last no less than 50 years. As such, buildings commit the land. Prime agricultural land, for example, that is subdivided into lots upon which buildings are constructed is unlikely to ever revert to food growing.
But not all homes are buildings. Mobile homes that are not fixed to land but are on wheels or on skids, designed to be removed intact when the need passes are parked on land not annexed to it. 50 of them can be placed on a low-grade paddock using, say a 15-year license to occupy to create a pop-up village, or one can be placed in the backyard of a single-family home when the family needs extra space.
Sometimes the need is due to affordability. Affordable housing in NZ is out of reach for four out of five renters according to an MBIE study (link). Other times it is due to a need for supervision – especially an elder who their kids want them nearby but still autonomous. The need is not permanent. In the case of affordability, the low cost allows one to build equity. In the case of supervision, infirmity or death means the unit is no longer needed. Whatever the reason, when the need passes, the unit can be towed away, leaving nothing more than bare ground.