The Flood Package
The mobile Home made to rise in floodwaters
3,500 kg box trailer
3,600 kg buoyancy underfloor insulation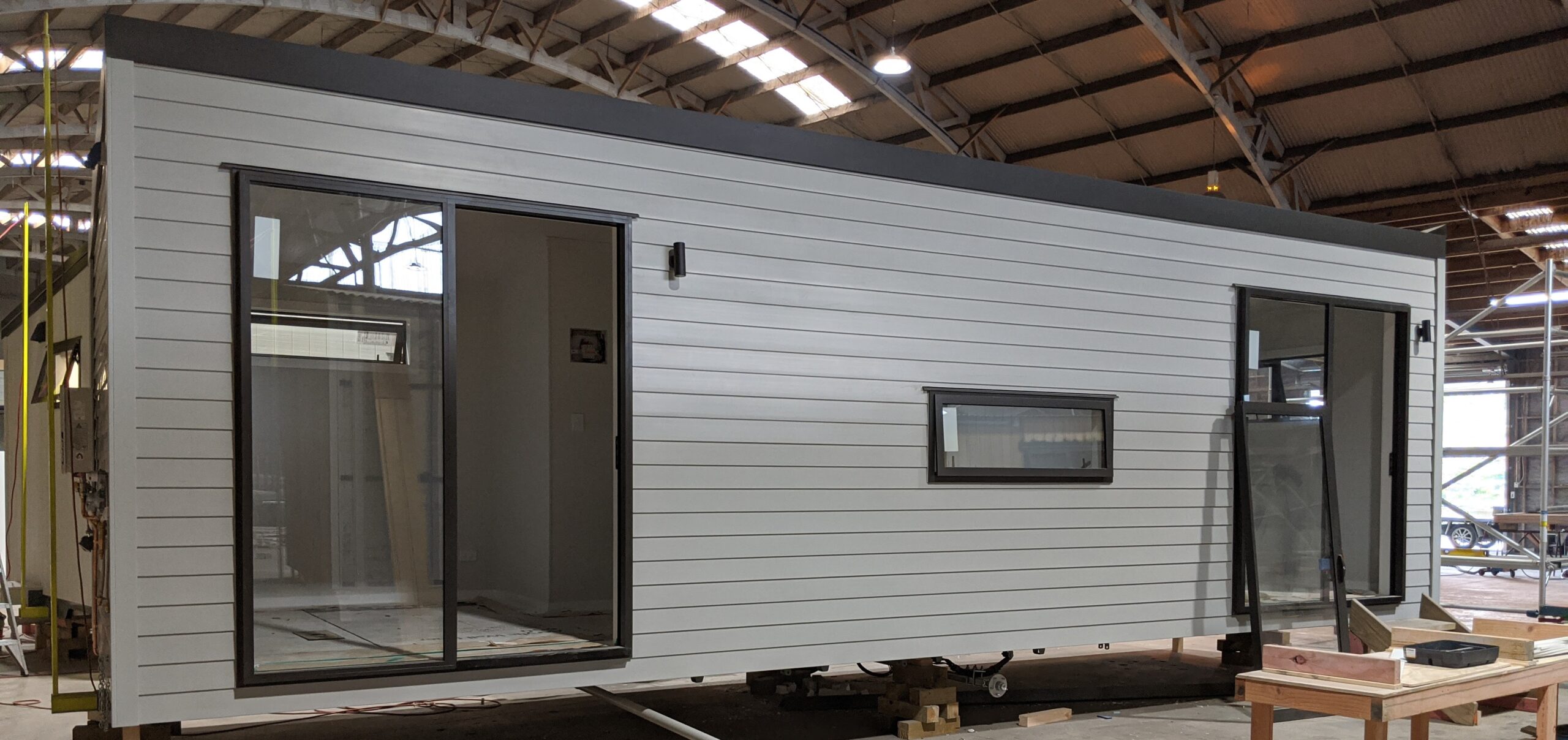 The Flood Package is a special add-on when a new mobile home is made. The standard EPS rigid insulation (100 mm) is increased to 160 mm (or more) and positioned solidly underneath so it lifts the mobile home in a flood. The chassis has steel eye bolts welded on each corner to attach removable chains to keep the mobile home from floating away in a flood. An optional feature to the package where flood waters are projected to be fast flowing is a bow V-blade that is affixed to the towbar socket so the water passes to the sides rather than ride up the flow-facing wall.
Special Flood Features
150mm EPS Floor Insulation
4 anchor eyes, one at each corner
Anti-mould building materials
Surefoot T150 footing (3rd party)
4 mooring chains
High mounted utility connections
The customer identifies where they want the mobile home to go. They are supplied with information by Auckland Council as to the maximum projected flood level (to determine chain lengths).
The Surefoot supplier arrives with 4 T150 footings that are driven into the ground with a portable hammer and attaches a chain hook to the top. The mobile home is parked, chains connected as well as the usual installation and the occupant moves in. Boat cleat at front door is optional.
How it works
The factories in NZ are already making the basic product, churning out 15 a month that could be tripled if they moved to 3 shifts running 24/7 – subject of course to hiring additional staff.
To do this they need a commitment for a significant number of Civil Defence orders.
Further, it would be important that installation of the units is not entangled with paperwork associated with buildings. Auckland Council has confirmed that box trailers – which is what a mobile home is – are not buildings under the RMA, and the Building Act is clear that mobile homes that remain movable are not buildings.
How to buy:
How it is different
The chassis is already galvanised steel and uses EPS insulation. For the flood units the insulation depth is increased, glued into place to ensure it holds during a flood.
The chassis are made in NZ. Adding specifications for anchor hooks at each corner is negligible.
Many units are made using vinyl cladding, and for the flood units this would be standard – as would be hospital grade interior PVC lining (as used in the mobile COVID hospital testing units) rather than grooved plywood.
Instead of EcoBatt insulation, at least the first 300 mm on wall insulation would be high-density EPS foam and floor cabinetry would have a H3.2 kick panel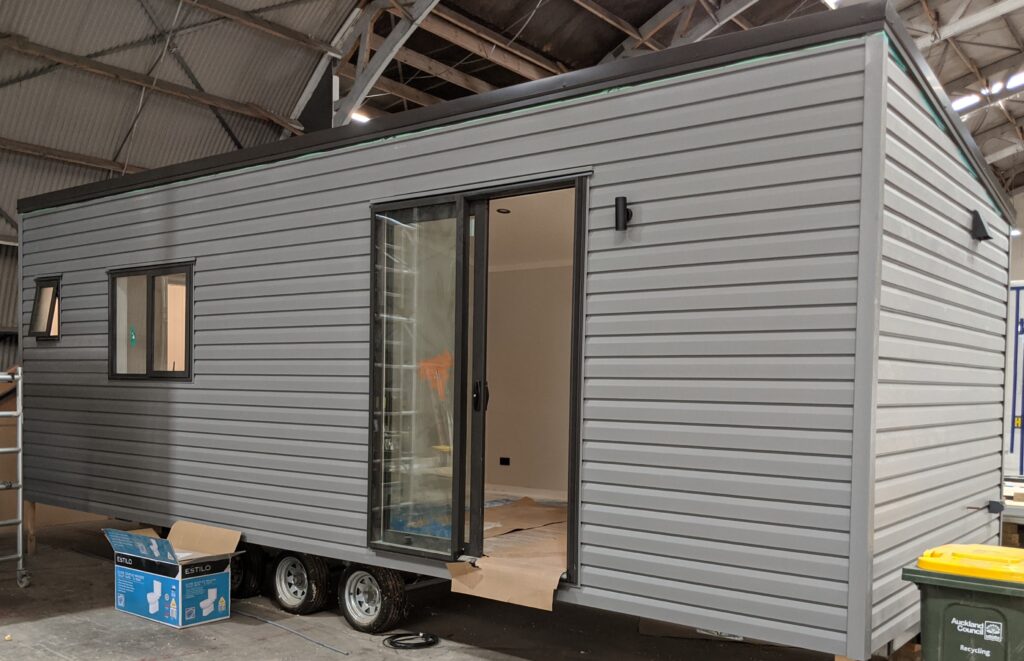 Vinyl Cladding resists mould and is easy to pressure wash to restore like new.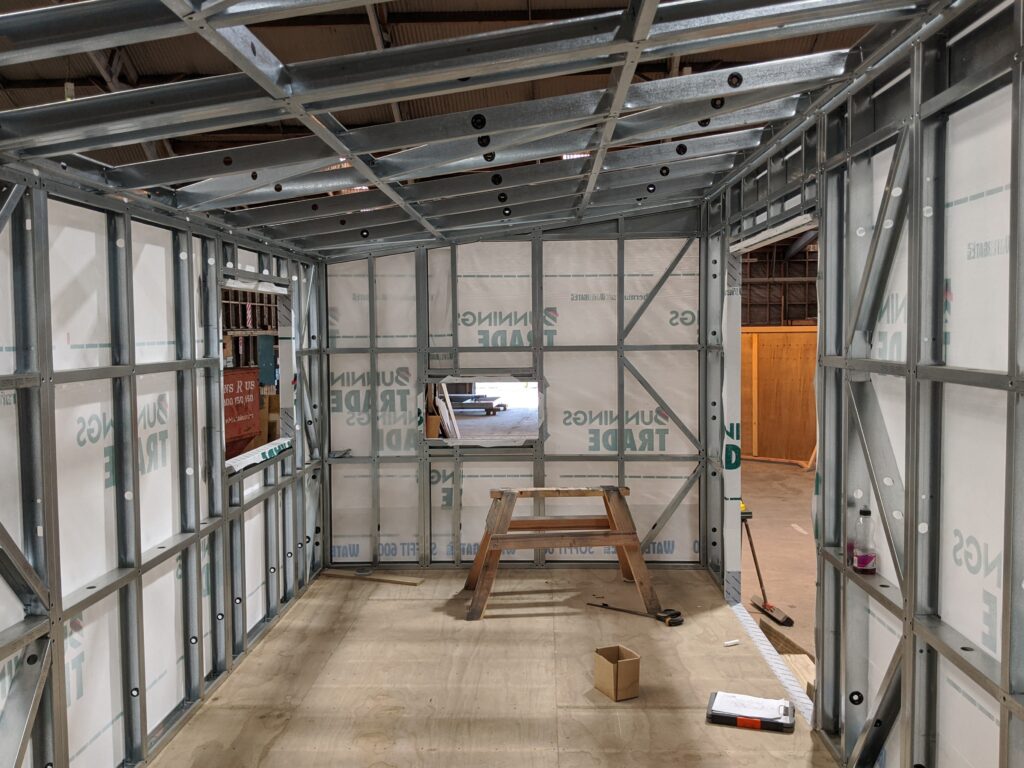 Galvanised steel frame structure (FrameCad) does not rot or mould. Subfloors already are H3.2 plywood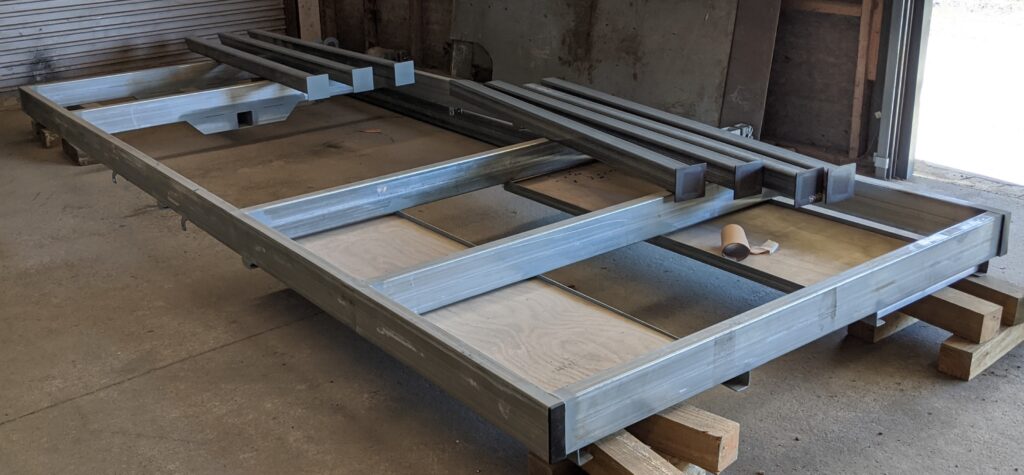 The 150 mm box trailer chassis is already insulated with EPS rigid insulation. The only change is to ensure buoyancy exceeds weight (160 mm thick). Does not rot or mould. EPS is not intended for permanent immersion in water but is suitable for occasional flood waters.
The Flood Package is not intended to be used as pontoon homes in water. The buoyancy is solely to protect the habitat above in the event of a flood and lower the risk of damage and recovery costs. The flood package is intended to reduce adverse impact, but because every weather event is different with varying conditions, no guarantee of 100% protection is given. The lifting capacity and the chains to hold it in place are common sense. If the water is rushing by, like a river, it may spill inside and require clean up, but if this is predictable, the optional V-blade may help push the water aside. If the flood is salt water from ocean flooding, the metal joints will require thorough cleaning and salt protection after a flood event. In all cases, after a flood a suitably qualified person should inspect the unit to ensure it does not require remedial work, and that the legs or piles upon which it sits are properly situated – and if not, to remedy before re-occupying.
Layout
The interior layout is flexible. It begins with a completely open 2.8 x 8.8 floor area into which non-structural walls are installed. The bunk with toilet example has (left to right) a two-bed shared room, a toilet/basin, a single bedroom and a double bedroom. Each has its own outside door, as well as divider doors.
The family design has a single bedroom, kitchenette and bathroom, a lounge that could use a sleeper sofa if needed, and a master bedroom.
Storage can be provided under the beds, and in overhead compartments.
These are just two examples. As boat designers know, a lot can fit into small spaces.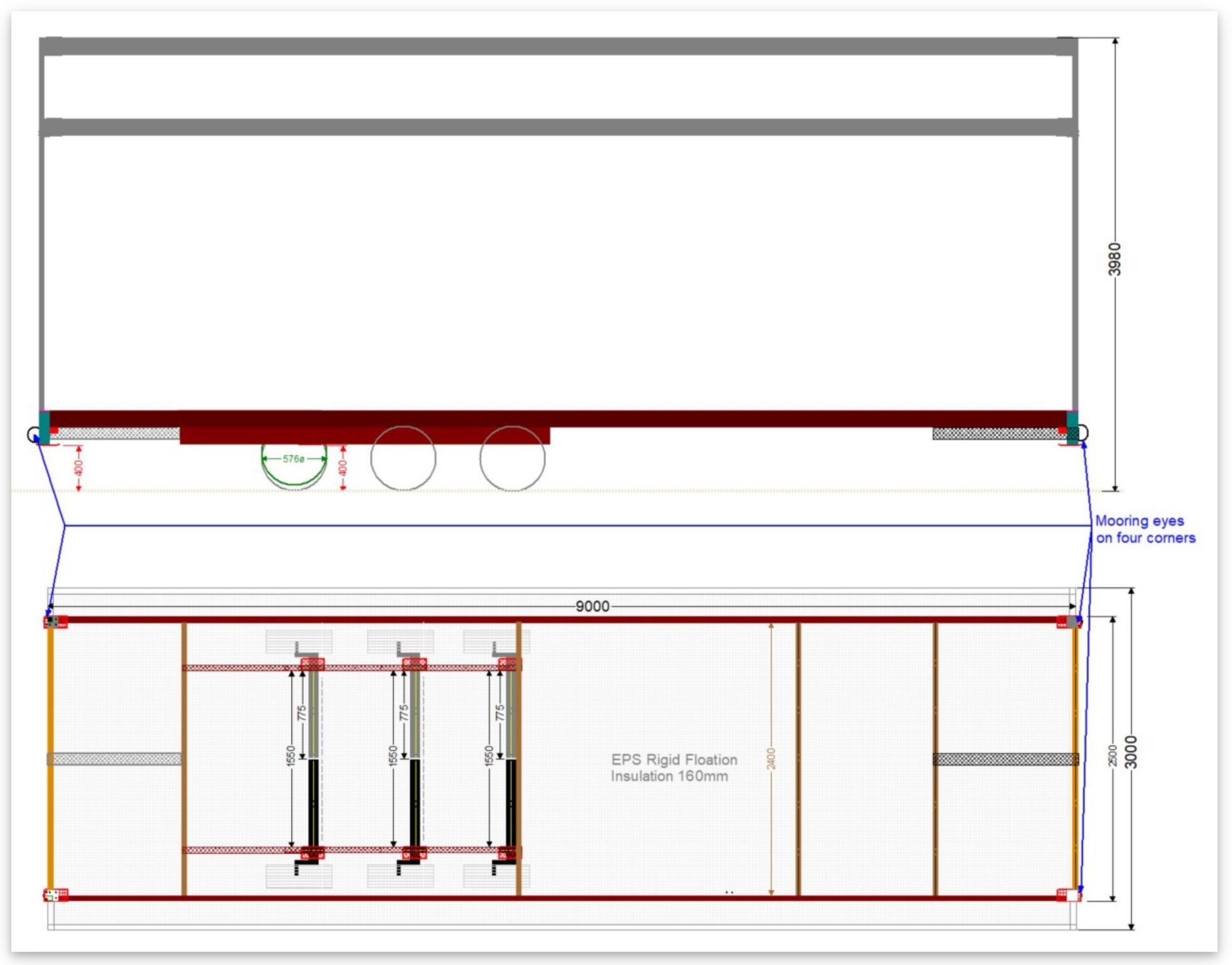 Flood Option Chassis
The structural chassis is 2.5 x 9 m with mooring eye hooks at each corner. The outriggers are at 3.0 x 9 m, encompassing 25 m² of 160mm rigid EPS insulation for a floatation lift of 3,600 kg based on 900 kg/m³
The Surefoot™ contractor determines the depth and sizing of the removable Surefoot T150 footings based on soil composition and projected vertical flood rise and horizontal flood (river-like) movement speed, and installs the T150's before the mobile unit arrives.
The tow-bar receiver is designed for the tow bar hitch to be removed, allowing for an optional wave plough to be inserted that diverts moving water away from the wall pointed in the direction of the projected flow.
Caveat: Such a design is intended for normal flood waters, not a flash flood that sweeps everything away. Vacate high-risk zones permanently.
Mobile homes come in different sizes. These are sample configurations. 9.0, 8.0, 7.2, 6.0 and 4.8